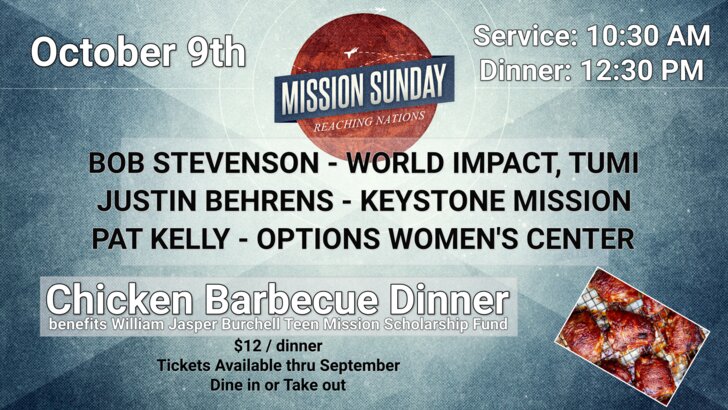 October 9, 2022
Mission Sunday & Chicken Dinner Fundraiser for Youth Mission Trip
Missions Sunday is a day when we will hear from a few of the ministries and missionaries we support. Come out to hear what God is doing locally and around the world, and how we play a part!
This year we are featuring:
Bob Stevenson - World Impact/TUMI
Justin Behrens - Keystone Mission
Pat Kelly - Options Women's Center
The worship service, 10:30 AM, will be focused on Missions. Then, you can stay after enjoying a pre-purchased Chicken Barbecue Dinner* where you will be able to talk with them, and ask questions to learn more.
*This year, we will be selling Chicken Barbecue Dinner tickets through the month of September to benefit the William Jasper Burchell Teen Mission Scholarship Fund. This will help to support our upcoming Youth Mission Trip in 2023! You can purchase your tickets in September, and then on October 9th, 12:30 PM, you can turn them in for a Chicken Barbecue Dinner.
You may stay and eat the dinners with our missionaries to learn more about them, or you can take the dinners to go.
Minimum Suggested Donation for Dinners - $12 each.
You may also purchase extra dinners as gifts to help those in our church family who cannot afford a dinner themselves.
Only 300 Chicken Barbecue Dinners Available.
Only those with tickets purchased in advance will be able to get dinners on October 9th, 12:30 PM. No Dinners will be sold on October 9th.
Tickets may be purchased in the church foyer, or through EFBC members and youth who are selling tickets.